The Assocoral is the National Association Manufacturers of Coral, Cameos and Related Material; Goldsmiths, Traders, Sales Agents and designers of jewelry and objects with components of coral, cameos and Related Material.
Founded in Torre del Greco (NA) in 1977 and natural continuation of Union Corallai already active from the early '900, the Assocoral has as objective the promotion, protection, preservation, promotion of all matters concerning the craftsman and the coral industry, cameos, the machining of the similar materials, as well as the goldsmiths productive sectors related to them.
For this:
It promotes and develops the organizational consciousness of the industry, for the defense of their professional interests; protection and assists Categories represented at the union, economic, technical and professional, anywhere if the need arises;
It supports and helps to solve interesting problems were represented Categories effettuandone and coordinating the study;
It promotes the professional training of employees in Categories associated with particular regard to apprenticeships, in order the better qualification of the new generation of work and of the same business owners, as well as the redevelopment of the above; promotes the establishment of cooperative, consortiums that they can better address the structures of member companies to market conditions, goods, services and the needs of technical and production progress;
It develops all appropriate initiatives in the cultural and technical fields through the dissemination of appropriate publications and the establishment of support services; promote and develop useful relationships with organizations and national and foreign institutions operating in the field of categories represented.
It promoted numerous study days, conferences and seminars on issues related to raw materials and the protection of the industry materials, and organized promotional and cultural events, including major New York exhibition, Monte Carlo, Basel, Milan, Vicenza, Barcelona, Rome and Torre del Greek.
Currently the Assocoral is engaged in three major areas: protection of coral resource, development and marketing companies, overseas promotion of the products.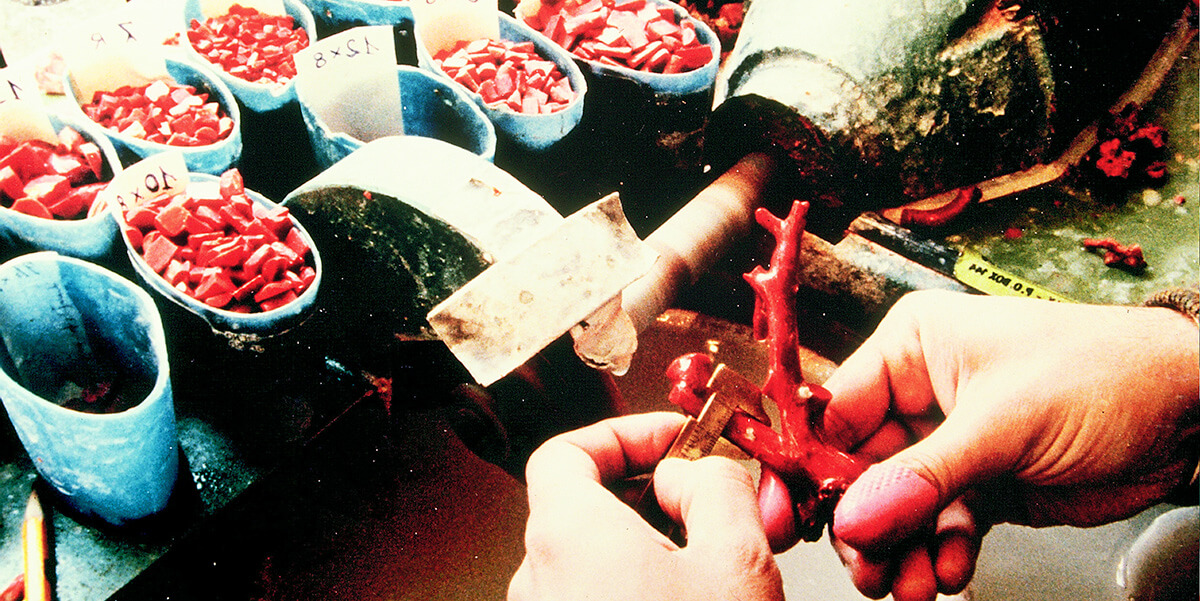 April 4, 1977
In front of the Notary Pietro Ragucci Portici, 6 "coral manufacturers" created ASSOCIATION OF MANUFACTURERS OF CORAL, CAMEO AND RELATED MATERIALS.
They are:
CARMINE AUCELLA representing Giovanni Aucella & Figli
LUIGI IACOBELLI representing Iacobelli F.lli s.n.c.
MICHELE CRISPINO representing the company bearing his name
SANDRO SEBASTIANELLI representing the company bearing his name
GIUSEPPE RAJOLA representing Rajola snc
LEONILDE LOMBARDO representing Lombardo Giuseppe D'Aprea & C. snc.
At its first meeting, the Board of the Association elected as the first president, Sandro Sebastianelli.