L'Assocoral the National Association of Manufacturers of Coral, Cameos, and Related Matters; Goldsmiths, Merchants, Agents, and Designers of jewelry and objects, with the components of Coral, Cameos, and Related Matters.
Founded in Torre del Greco (NA) in 1977, and a natural continuation of the Union of Corallai already active by the early '900, Assocoral aims the enhancement, protection, preservation, and promotion of all with regard to the craftsman and the industry of coral and cameos, the processing of the related subjects, as well as the production sectors goldsmiths related to them.
To this:
it promotes and develops the consciousness and organisation of operators of the sector, for the defence of their occupational interests; to protect and assist the Categories which are represented on the floor of statutory auditors, the economic, technical and professional, wherever necessary;
supports and helps to solve the interesting problems of the Categories represented, carrying out and coordinating the study;
promotes the professional training of the employees of the Categories associated with particular regard to the apprenticeship, at the end of the best qualifying of the new generation of job and business owners, as well as the redevelopment of the above; it promotes the creation of bodies, a cooperative consortium who will be better able to address the structures of the associated companies to market conditions, goods, services to the requirements of technical progress and production;
develops every appropriate initiative in the field of cultural and technical through the dissemination of relevant publications and the establishment of support services; promoting and developing useful relationships with Organizations and national and international Institutions working in the field of the categories represented.
He has pursued a number of study days, conferences and seminars on issues related to raw materials and the protection of the fund, and has held important promotional and cultural events, including the important exhibitions in New York, Monaco, Basel, Milan, Vicenza, Barcelona, Rome and Torre del Greco.
Currently, the Assocoral is engaged in three major strands: the protection of the resource, coral, development and marketing of companies, overseas promotion of the products.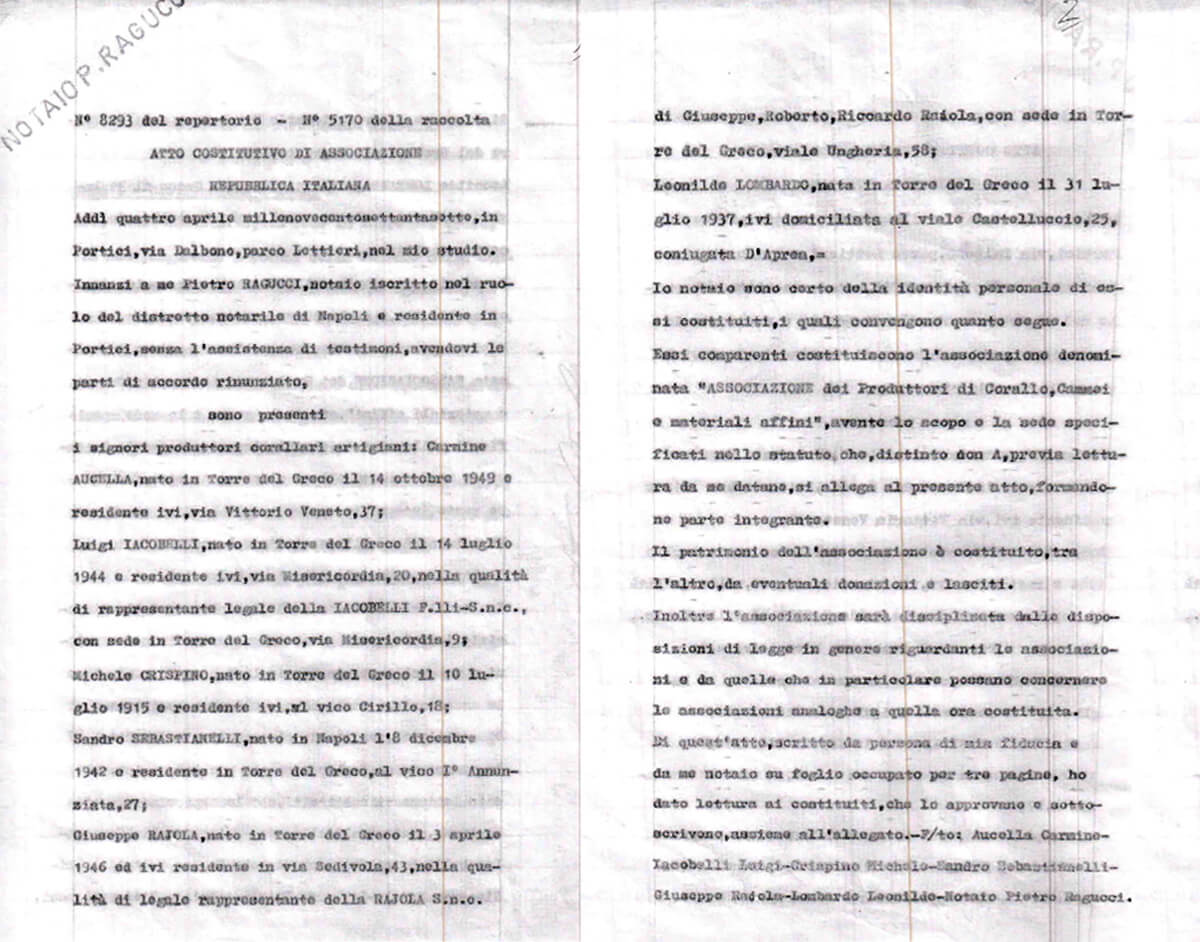 In front of the Notary Pietro Ragucci Porches you are-you are the "producers coral" to give life to the ASSOCIATION OF PRODUCERS OF CORAL, CAMEOS, AND other RELATED MATERIAL.
They are:
In its first meeting, the board of directors of the Association shall elect as the first president, Sandro Sebastianelli.